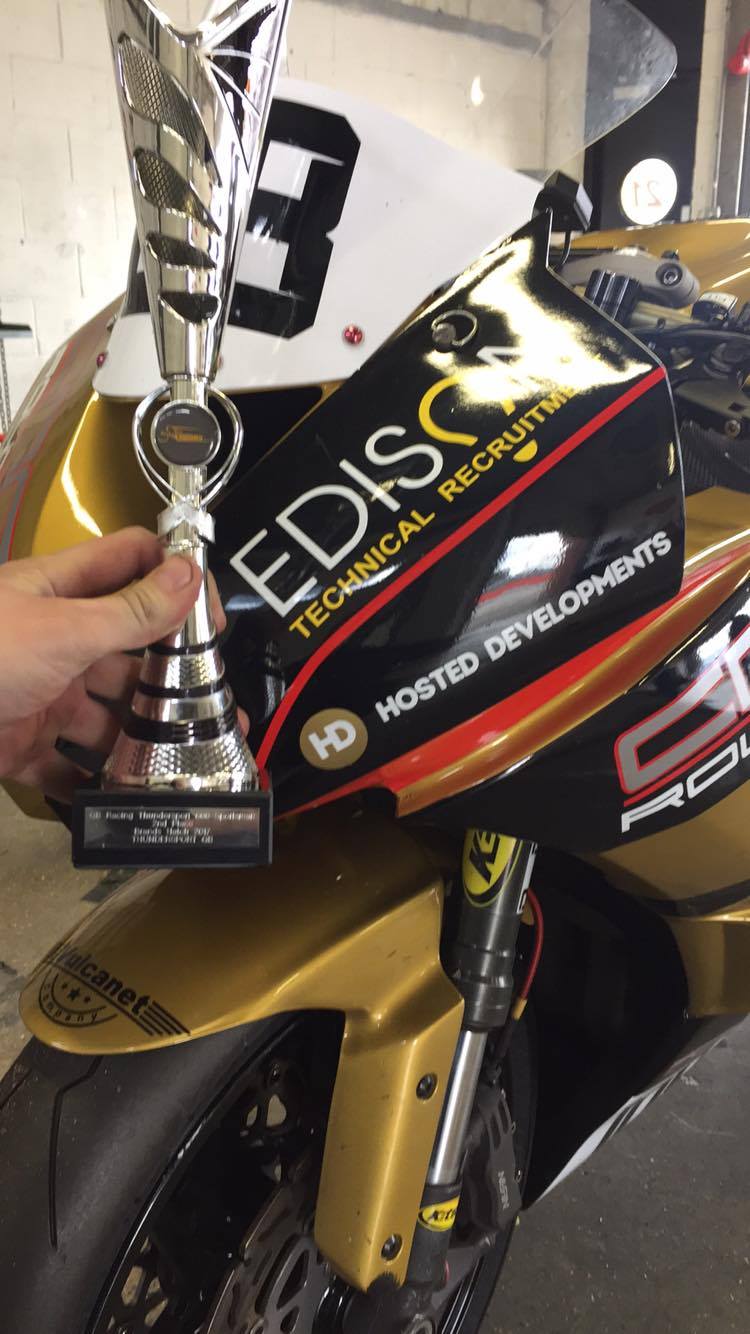 Brands Hatch Race Report
This weekend we started our season at the famous Brands Hatch Indy circuit which always provides good close racing.
Test Day
The day was a perfect test day with the weather giving us the opportunity to test the bike in wet and dry conditions this worked well as this was the weather report for the rest of the weekend. Happy with pace and setup for both conditions we finished the day happy enough.
Qualifying
It was a busy busy session with not much room for clear laps. We managed a few average laps and finished a frustrating 9th overall but 2nd in class.
Race 1
Starting 9th the race was dry and really was a good opportunity to get the season going. I got a average start but made 2 positions into turn 1. We pushed hard and made more places finding our way into P6 overall. We then came across Alex Laureys Racing and JAB racing(Ryan Varley) we had a great battle switching places plenty of times, we were all running a strong pace none of us going as fast as we could due to swapping places so many times. I just piped Ryan to the line after he had a moment out of clear ways and took P4 overall and 2nd in class.
Race 2
Due to the mega laps system I started P5 and 1st in class. It was declared a wet race but was drying fast. We choose wet tyres.
We got a strong start making a place into 4th overall we sat being two in front and quickly felt I had a stronger pace, I set up a move which has worked for me in the past but unfortunately I was slightly too wide and the rear let go. The bike took some damage we repaired the bike quickly and got it ready for Race 3.
Race 3
Very similar track conditions to race 2 we went with the same wet tyres. We had a great start moving from 5th to 2nd I sat behind Jordan Rushby and was just about to knock off lap 1. Unfortunately when exiting the last corner clearways I lost control of my bike were the camber of the circuit drops away. I remember it all clear as day I had already picked up the throttle much earlier to build momentum the rear came round I saw the rear wheel came round pretty quick and flew me off. It was all good until I hit the floor which then I fell hard onto my head knocking me clean out, after that I woke up in the medical centre and had some other pains.
Firstly I just want to thank Thundersport GB , the medics and marshals they were so good to me I cannot thank them enough!
Secondly I'd like to thank my family, friends, sponsors and competitors for generally asking how I am it means a lot to me thank you.
The weekend to me was a success, I ran at the front all weekend, beat my personal best lap time and had great fun all weekend!
I'm not completely sure how quickly I will return but will find out more today!
Thanks to all of my sponsors!
Edison Technical Recruitment
CNC Routing LTD
Hosted-developments – Thank you Peter and Sunrise for your support, the flowers and chocolates went down well 😊
Kickstart Motorcycles
Circuit Moto
Vulcanet Bike UK
PCR Performance
Eazi-Grip Tank Grips
HEL Performance
Held Rider Equipment
#MathewDawesRacing
#108
Race report courtesy Mathew Dawes
Race track images courtesy