Article by Stay Safe Online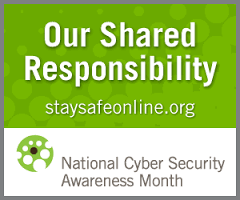 GET INVOLVED
Cybersecurity is Our Shared Responsibility.
Social Media
Post online safety tips and reminders about National Cyber Security Awareness Month on your social networks. Use the hashtag #CyberAware on Facebook, Twitter, Google+ and other social media sites. We've created sample social media posts that you can share leading up to and throughout the month on social media – download and share them all or customize them to your needs and interests!
Replace your profile picture or Facebook cover photo with the NCSAM logo for October. Download social media icons
Blog about cybersecurity throughout the month. Use social networks to disseminate information and encourage customers and employees to learn more about staying safe online.
At Home
Send an email to friends and family informing them that October is National Cyber Security Awareness Month and encourage them to visit stopthinkconnect.org.
Print a STOP. THINK. CONNECT.™ tip sheet and display it in areas where family members spend time online.
Hold a family conference to discuss how each member of the family can help to protect their online devices from cyber attacks. Read through and discuss suggestions from STOP. THINK. CONNECT.™
images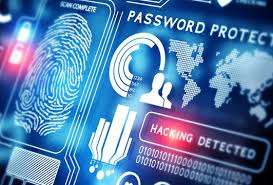 At Work/School
Display the NCSAM poster in your school, office, community center or religious institution. Download the poster here.
Become a NCSAM Champion. It's free and simple to sign up.
Review and update the acceptable use policy for all technology (computers, mobile devices, networks and personal devices) in your school or office.